19th Annual Conference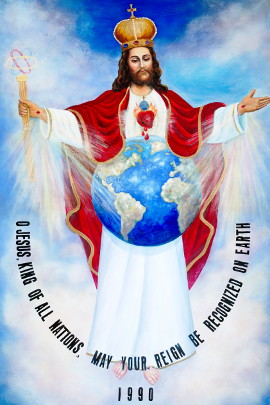 Jesus King of All Nations
August 4-7, 2016
Pikes Peak Center, 190 S. Cascade Ave, Colorado Springs, CO 80903
John Michael Talbot
August 4, 2016  at 7:00pm @ Pikes Peak Center
It All Began With A Vision
"God gave me a mission of itinerant ministry going from parish to parish in a time of great need in our culture. I believe that our current ministry is fulfilling that vision. We are bringing REVIVAL to Catholics and Christians of all faiths throughout the world!"
The path our Lord has guided John Michael on has uniquely prepared him for this time in the Church. After responding to the Lord's call, God used John Michael to bless millions of lives through his unique and multi-faceted ministry.
John Michael Talbot is considered a "Christian Music Legend" being one of the pioneering artists of what has become known as Contemporary Christian Music. He is recognized as Catholic music's most popular artist with platinum sales and compositions published in hymnals throughout the world.

John Michael is a best-selling author and television host of "All Things Are Possible" which premiered in April, 2014. John Michael leads his very active ministry from the Little Portion Hermitage in AR and St. Clare Monastery in TX where he is the Founder and General Minister of the Brothers and Sisters of Charity.
His artistic and humanitarian efforts have been recognized with multiple awards including the National Academy of Recording Arts and Sciences, the Gospel Music Association, Paul Harris Fellow – Rotary International, Mercy Corps and the Mother Theresa Award!
John Michael Talbot is one of the most active ministers traveling throughout the world inspiring and renewing the faith of Christians of all denominations through sacred music and inspired preaching. Like a modern St. Francis, John Michael Talbot's ministry is bringing revival to God's Church, "one parish at a time, and renewing hearts one life at a time."
Help the St. Thomas Aquinas Society to continue!
Events of this magnitude are very expensive. Your financial, tax-deductible gift is very much needed and appreciated.
St. Thomas Aquinas Society is built on a foundation of prayer. Your prayer support is very valuable too. We welcome gratefully any spiritual commitment you can make for the success of St. Thomas Aquinas Society and the conference.
Have you said your Hail Mary for St. Thomas Aquinas Society today? God bless!