Letter From the President
Dear Friends,
Our 20th major conference: Fatima and The Triumph is almost here. We are excited about this conference. It is truly a Marian Conference during this 100th anniversary of the apparitions at Fatima in 1917.
We begin with a free concert with Tony Melendez at 7pm at the Pikes Peak Center on Thursday, August 3. We hope you will come and invite others.
Mark your calendar and tell your friends: August 3-6, 2017 at the Pikes Peak Center in Colorado Springs. You won't want to miss this conference! Our conference will remain free, and as always, we are grateful for all donations.
You are receiving two brochures: one for you and one for a friend. You can find information about our speakers and the conference schedule in the brochure.
Our thanks to Richard George of rlstudios.com for the generous use of the image of Our Lady of Fatima, Immaculate Heart of Mary.
Tony Melendez
in concert Thursday evening and also conference speaker.
"I can't explain why people have been moved to tears, as my feet slowly apply pressure to the face and neck of my guitar something happens. For as long as I could remember these toes of mine have been like fingers. God somehow has blessed me with music and the desire to persevere."
Tony, originally from Rivas, Nicaragua was born without arms and with a clubbed foot due to the drug, Thalidomide, taken by his mother. At the age of one, Tony's family immigrated to the USA so he could have corrective surgery on his left foot.
His father encouraged and pushed him to do things on his own. He had to learn to do almost everything with his feet. At sixteen he taught himself to play the guitar with his toes.
In 1987 Tony performed for Pope John Paul II. This was broadcast internationally and that set Tony's career in to high gear. Tony has traveled to all fifty states and more than 44 foreign countries. In addition he has been on numerous shows such as Good Morning America, Hour of Power and more.
Tony, who lives in Branson with his wife Lynn and two kids, has recorded five albums. See more of his amazing story: tonymelendez.com
Marian Movement of Priests Fr. Charles Becker is a priest of the Archdiocese of Chicago and is the National Responsible for the Marian Movement of Priests, a worldwide Movement begun by Our Lady in Fatima through Fr. Stefano Gobbi who received interior locutions...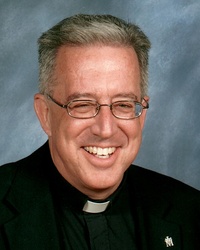 St. Michael the Archangel, Defend us in battle.
Be our protection against the wickedness and snares of the devil. May God rebuke him we humbly pray and do thou O Prince of the heavenly hosts, by the power of God, cast into hell Satan and all the other evil spirits who prowl about the world seeking the ruin of souls. Amen
Here we ask for prayers for Mattie Henry. He is not able to come this year because of health reasons. We will miss him but ask for your prayers. Hopefully he will be back next year. In the meantime we express our appreciation to Matt Werner who is always on hand to assist us in any way throughout the conference weekend and will be our MC for the main program this year.
Save the Date!
Rosary Rally
October 15, 2pm – 4pm
Holy Apostles Catholic Church, Colorado Springs
in honor of the 100th Anniversary of the Apparitions of Our Lady at Fatima. Reception follows in Mary's House. The Honorable Bishop Michael Sheridan will be presiding and offering a talk on the message and requests of Our Lady of Fatima.
For more information contact Paula Joy (p.joy@1.com)